Royal Palace Resort Dharamshala



Location
Dharamsala - Himachal Pradesh, 496 Km NW of Delhi.
Season
Around the Year



Royal Palace Resorts is another name of hospitality in Bhagsunag - Mcledoganj region, Dhauladhar hills of Kangra Valley. Royal Palace never fails to amaze and captivate its visitors with astounding sights, location and quality services that are overwhelming, especially for first-timers. Yet, our satisfied guests visit repeatedly to experience this satisfying sensory-overload year after year.

Staying at crowded city based hotels is a passé now, selected guests with taste of royalty and ambience look forward for exceptional locations, that let them experience best of rejuvenating and fulfilling experience. The art of our hospitality lies in our ability to offer a one-of-a-kind experience not found anywhere else, where tradition fuses with the ever-changing façade of an established group of hospitality !
Explore more hotels in Dharamshala
Other related hotels near by Dharamsala
Glenmoor Cottage
Blossoms Village Resorts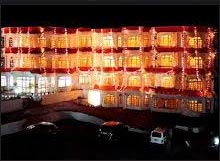 Royal Palace Resort
Horizon Villa South