Horizon Villa South Dharamshala



Location
Dharamsala - Himachal Pradesh, 496 Km NW of Delhi.
Season
Around the Year



The "Horizon Villa"overlooks the towns of Dharamshala , Forsythganj ,& the Pong Dam which is home to a variety of migratory birds, the Kangra Airport and splendid views of the Kangra valley. The Horizon Villa is essentially a vacation home of the Gupta Family of Kangra , Himachal Pradesh. Subsequent to several requests by many visitors from all over the world, the family has now started letting out the apartments in the villa to visitors on long term and short term stays. The family reserves certain section of the villa for their personal use. Sh. Jagmohan Lal Gupta, popularly known as "The Atta Man" is the son of Late Lala Yoginderpal Aggarwal and the head of the Gupta family. He is a leading industrialist of The Kangra District and a pioneer of the flour milling industry of Himachal Pradesh, The first man ever to have commissioned and run a flour mill under the name and style of M/s Himachal Flour Mills (P) Ltd at Kangra. Himachal Pradesh which is a sizeable source of revenue for the state and a source of employment for the people of the Kangra town.

At the moment, members of the Gupta Family are engaged in setting up a boutique hotel in The kangra valley area.

The Horizon Villa to most people is like a "home away from home", providing fully furnished, warm and comfortable lodgings, comparable with the best hotels in Mcleodganj, Dharamsala for both long term and short term stay.
Explore more hotels in Dharamshala
Other related Hotels in Dharamshala
Glenmoor Cottage
Blossoms Village Resorts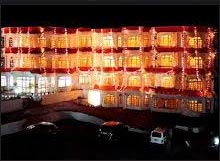 Royal Palace Resort
Horizon Villa South