St. John'S Church In Wilderness

7-km upward from Dharamsala, between Forsyth Ganj and Mcleod Ganj lies the charming St. John's Church. It was built in 1852 and is dressed in grey stone with some fine Belgian stained glass windows donated by Lady Elgin. The church is popularly known as the church of St. John in Wilderness.

Not far from Dharamsala is the famous temple of Chamunda Devi. It is an enchanting spot with glorious views of the mountains, the Baner Khud, Pathiar and Lahla forests. 15-km from Dharamshala a tiny village of Dadh on Palampur road is the famous temple dedicated to Goddess Chamunda Devi.

Named in honour of the great patriot 'Maharana Pratap' (1572 - 97 AD), the Maharana Pratap Sagar was once known as the 'Pong Dam Reservoir'. India knows the 'Maharana' as a man who struggled valiantly for his kingdom of 'Mewar'-as for the principle of independence. In the words of the Chroniclers James Tod and William Crooke, "He spurned every overture that had submission for its basis". Over the river Beas, the "Pong Dam" was completed in 1976. Its reservoir has an area of about 45,0000 hectares at maximum possible flooding - the level varies with every season and averages around 30,000 hectares. Over 2,000 villages with a population of over 85, people are lying along the wetland.

Just 4-kms from Dharamsala is Norbulinka. This place has heavy Japanese influence. The Norbulingka Institute of Tibetan Culture was founded by the Department of Religion and Culture to preserve and promote Tibetan art and culture in exile.

Orginally known as Dhameri, 66-km from Dharamsala and 24-km from Pathankot, Nurpur Fort was renamed by the Emperor Jehangir, son of the Great Moghul Jalal-Ud-Din Mohammad Akbar. The fort is now in its ruins, but still has some finely carved reliefs.

Tsug-Lag-Khang (Central Cathedral)

Though a plain and utilitarian substitute for its far more splendid namesake in Lhasa, also known as the Jokhang, the Tsug-Lag-Khang is nevertheless fascinating and peaceful. Situated opposite the residence of His Holiness the Dalai Lama, Tsug-Lag-Khang is known to the local Indians as the Main Temple.

Situated just 13-kms away from Palampur, lies this dwelling place of artist S.Sobha Singh. It houses a gallery of some of his major works and a pottery center.

Surrounded by high and green Deodar trees is the lake, which fills a mountain bowl. Situated 11-kms away from the town, this lake is easily approachable by road and makes an enchanting and serene picnic spot.
Hotels in Dharamsala
Glenmoor Cottage
Blossoms Village Resorts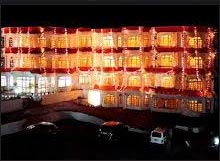 Royal Palace Resort
Horizon Villa South